Five techniques to combat Internet addiction, by Roland Kirsch, Zurich, Switzerland-based entrepreneur and investor.
Did you know that the average U.S. citizen stares at a cell phone or tablet for three hours every day? Including television and computers, this model citizen spends nine (!) hours a day in front of a screen. This is a global phenomenon. A recent study by Deutsche Postbank AG indicated that Germans spent 46.2 hours online per week in 2018, three hours more than the previous year, meaning they spend more time online than at work. So what to do to reclaim the lifetime is often asked.  
Discussion – five suggestions to reduce Internet addiction and distraction
Certainly, the Internet is a fascinating and useful phenomenon in many ways. But email, social media, games and other forms of entertainment are increasingly becoming an unconscious bully for many people. The distractions are so numerous and ubiquitous that learning and work suffer, and so do social relationships in the real world. Prof. Cal Newport (Georgetown University, a prestigious American university in Washington, D.C. ) has done research on this. His book "Digital Minimalism – Living Easier with Less Technology" – became an instant hit in the United States. His tips are summarized here.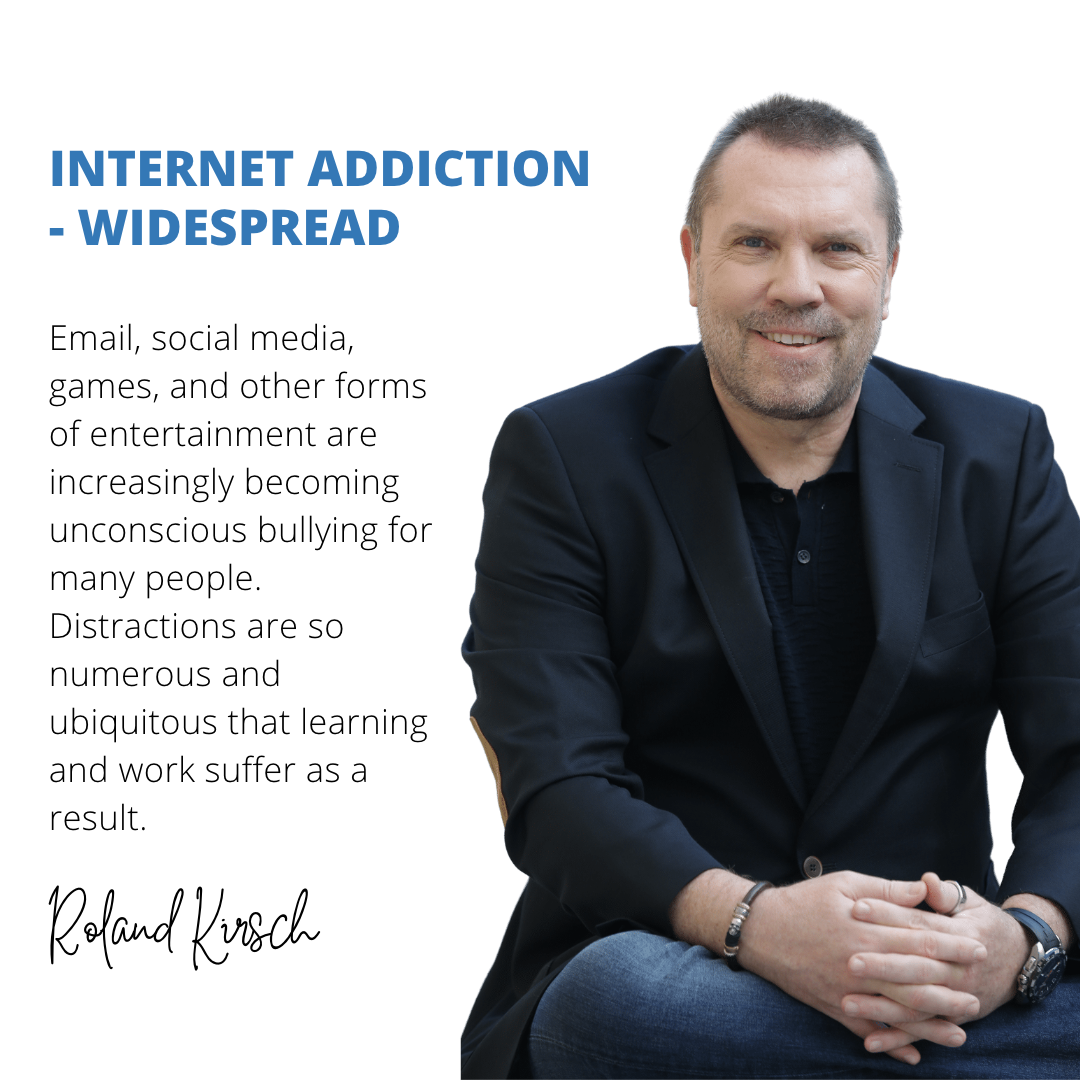 Technology is NEUTRAL first
Some believe technology is useful, others disagree. According to Prof. Newport, it's how it's used that determines whether something is good or bad. In his book, the author suggests the following five tactics:
schedule times for uninterrupted work

Prof. Newport suggests dividing the workday into two-hour time periods. In a two-hour time frame, phone calls and meetings are off limits; they take place later. This way, you can use your full mental potential in the two uninterrupted hours.

emails are overestimated

Hundreds of emails a day? Studies have shown that the average office worker receives and sends about 125 emails every day. This requires a significant amount of time to write, read and respond, usually several hours per day. Prof. Newport's radical proposal is to ignore all e-mails that do not require a response. This would cut the time wasted almost in half.

be alone – endure spending time alone.

The smartphone is a silent dictator that has its users firmly in its grip. The average user looks at the screen 88 times a day. Without a cell phone, the majority of (young) people feel bored and even lonely. Many people probably have problems with being alone. However, loneliness is an important source of creativity.

Professor Newport therefore suggests re-learning how to survive without a cell phone. For example, jogging. Practicing several times a week reduces digital stress and restores attention.

talk instead of "liking"

Digital birthday greetings via Facebook and email New Year's greetings – sometimes sad! Nothing can replace a real phone call or a human conversation. A "like" is quickly forgotten, but a personal conversation or a phone call remains in the memory. Digital communication is not able to create a sense of belonging and sympathy; that can only be done on a personal basis.

digital withdrawal!

This is the most drastic method Newport uses to combat Internet addiction. For 30 days, you must refrain from using any digital tools that are not absolutely necessary for work. In addition, video games, entertainment, and social media are ignored for a month. During this mental cleanse, you'll realize that tools, apps, games, and features aren't as important as you previously thought. Now the basics of life are back in the spotlight. And your own abilities are rediscovered. A new sense of independence emerges within. "Vivere militare est" says the Latin and probably means it is a struggle, not only no external enemies, but also addictions of modern times.
Roland Kirsch
Entrepreneur & Investor
Responsible in terms of press law
Contact: 
Roland Kirsch
Hagenholzstrasse 85B
8050 Zurich
Switzerland
Tel.: 0041-445458195
Mail: anfrage@geckomoney.com
Web: https://geckomoney.com
About Roland Kirsch: 
Founder, investor, entrepreneur, Roland Kirsch lives and manages his business activities from Zurich, Switzerland. Active as a businessman since the mid-eighties; today his focus is on digital business models and their optimization. Through his successful projects and views, the "entrepreneur and business punk" encourages international entrepreneurs to embrace change and proactively shape it. He has been actively involved in promising companies with capital and know-how since the mid-nineties. For further information please visit: www.geckomoney.com 
PRESS CONTACT
Roland Kirsch
Hagenholzstrasse 85B
8050 Zurich
Switzerland
Tel.: 0041-445458195
Mail: anfrage@geckomoney.com
Web: https://geckomoney.com